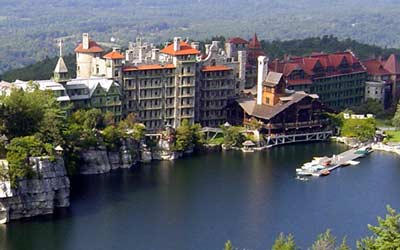 If you often find yourself with too much time on your hands and have a hankering for exercise, climbing the trails at Mohonk Preserve might just solve all of your problems. It's located only about forty minutes away in New Paltz, and features an exciting amount of carriage roads and trails. Your hard work will be rewarded, as well.
Along the way, Mohonk is home to some of the most beautiful natural scenery and diverse wildlife. In fact, it was named one of the five best city escapes nationwide by Outside magazine, according to its website.
Mohonk has all different sorts of trails for running, horseback riding, climbing, hiking or biking and, once it gets a little colder (and stays that way), skiing or snowshoeing. Their trails are accessible even to those with mobile impairment or in wheelchairs. The trails are also catered to a range of hiking ability, featuring trails ranked from 'easy' all the way up to 'strenuous.'
If you're set on taking a leisurely hike, Mohonk's easiest trails range from a quarter of a mile to five miles round-trip where you can make your way through the woods, exploring the sights, sounds, smells and textures that nature has to offer. For the more adventurous hikers, there are longer routes that could include an optional rock scramble up.
If hiking isn't your favorite thing to do, and you've been dying to ride your bike somewhere other than from your dorm to the Deece and back, Mohonk has over 80 miles of carriage roads which link to bike routes adjacent to Minnewaska State Park Preserve and the Mohonk Mountain House resort.
For those that like traveling a little more vertically, and really have faith in their upper body strength, Mohonk also provides access to over five miles of cliff face, across which spread upwards of 1000 different routes, with which to test your skill at rock climbing.
Don't worry if you're an experienced climber and you think the distinctive white cliffs of the Gunks won't offer enough challenge. Mohonk's website reassuringly states that the cliffs are as tough as they look, and maybe even tougher.
If your horse is getting fidgety from the lack of view outside the MLC Farm, you can take it to Mohonk's 19th century carriage roads where you can enjoy nature without the distractions and potential hazards of intermittent car traffic. Instead, it will be just you, a horse, nature and possibly some other riders.
If you don't believe anything could be such a perfect solution to the tedium of daily study-blues, take it from Vassar's very own Swimming and Diving team. Over October Break, the least coordinated people on land took the trip to the Preserve where they hiked the Lemon Squeeze from the Mohonk Mountain House resort up to Skytop Tower. The Squeeze quite literally, lived up to its name, as they encountered a very narrow portion of the climb where they were forced to abandon the bags and water bottles they were carrying in order to be able to fit through. Not only were they surrounded by rock, but also confronted with a rock scramble. Once at the top, however, they were gifted a beautiful view of the valley below.
There are fees to be able to enjoy such great activities, but if you would rather pay for indoor luxury than an exciting adventure, or if you just want to stay at Mohonk for a bit longer, the Mohonk Mountain House resort is your best bet. While they are not affiliated with Mohonk preserve, they are close by. They have an award-winning spa and, if you pay to use the spa,  you also receive a pass to use the hiking trail at Mohonk Preserve, complimentary of the spa itself. Additionally,  and without mentioning the resort's own view overlooking Lake Mohonk, the resort also sports tennis courts and paddle boards to take out on the lake.
Mohonk has everything that Poughkeepsie, being a city, doesn't have. It provides a chance to remove yourself from the craziness of everyday life and admire nature up close. It not only has plenty of chances to engage in  physical activities, but it also provides opportunities to engage in things that require less physical exertion.  You can take a vacation with friends and family in the local campgrounds, go find a tree blind in the Preserve's hunting grounds and even, if you're really into it, make use of the resort's wedding grounds.  No matter who you are or what you enjoy, you'd be hard pressed not to find something that you'd enjoy doing here.
As the largest, non-profit preserve in New York State, Mohonk's mission statement is "saving the land for life". As a preserve they hope to not only protect the environment, but also to raise awareness about land protection and conservation. Even if you don't feel the need to do an intense rock scramble or to relax in the resort, you could simply relax at Mohonk, knowing that it is a part of New York that won't be changing anytime soon.